The Stallerhof
Kind. Charming. Welcoming. Relaxing. Breathtaking.
The Stallerhof and its location amid nature, softly embedded within meadows and protected by picturesque mountains, leaves various favourable impressions on its guests. No surprise. After all, the very view over the entire Salzach valley itself is worth a visit.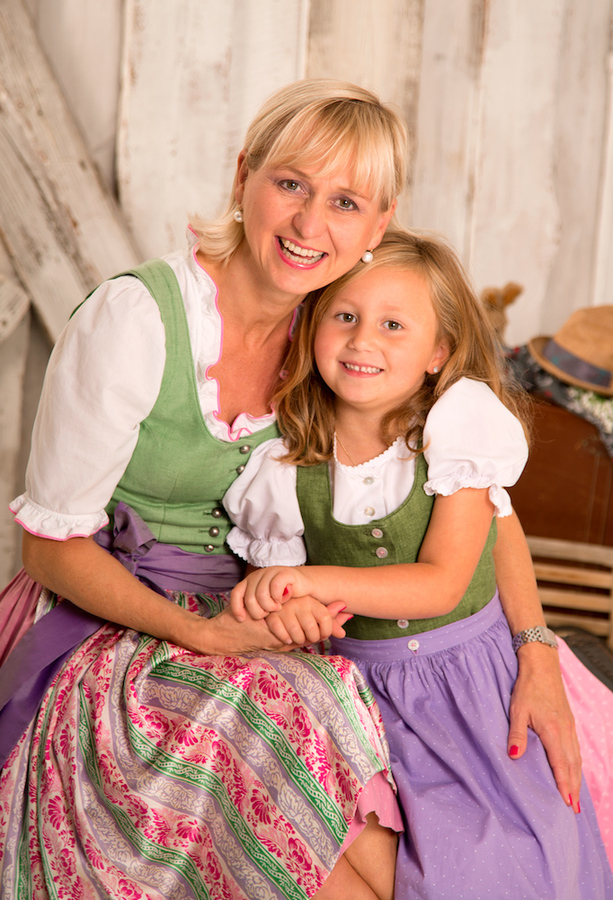 MY HAPPINESS – MY GUESTS
My credo at the Stallerhof.
Find a ready welcome at the Stallerhof. Relax in nature and enjoy the warmth, tranquillity, lots of fresh air and the beautiful view of our mountains. We will attentively look after you, so you can feel at total ease.
My family and I look forward to your visit.

Your Monika Putz
Nature.retreat
Tell your everyday life to continue without yourself, for a while.
Enjoy the day to the fullest and relax in our cosy rooms or on our sunny terrace. Breathe nature and feel the tranquillity. It's time to simply feel at ease. Be touched by the warmth and private atmosphere of our family-run house and take in the sensational view across the valley and of the mountains.
The Location
Here, everything rests peacefully: the house on the mountain and you in the cosy beds.
Salzburg, the wonderful city of Mozart, is within sight of the Stallerhof. This provides you with the great opportunity to go on cultural and culinary excursions in any wind and weather, all year long. You can look forward to a range of ski areas in the region, in winter and, in summer, to demanding hiking tours or relaxing e-bike trips, that start right next to the house.
Servus and Welcome!
We care for our guest's health and safety. Consequently, for the time being, we do not shake hands and our hugs are postponed to some time in the, hopefully, near future.
Flexible booking: We are aware that, especially nowadays, plans can change any time. With our free cancellation up to 24hours prior to your arrival, you are on the safe side.
We look forward to your enquiry.
"Wonderful place in spectacular location! Everything perfect."


Agnieszka - Poland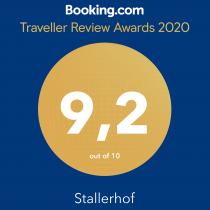 "Situated above a valley with wonderful views. The accommodation was very clean and comfortable with a good breakfast and pleasant staff."

Lynne - United Kingdom

OUr history

For generations the Stallerhof was run as an agricultural farm, until in 1970 a guesthouse- and hospitality business was added. Still today though, the pastures are cultivated, animals enliven the farmyard and, for private consumption only, every now and then the Stallerhof Edelhausbrand (our noble house brandy) is distilled in our very own distillery.

we love animals
Welcome to the Stallerhof!

Animals have always been a part of the Stallerhof, the original farm of which, is still run today. Each and every day, our animals enjoy nature, peacefulness and a healthy environment. At the red deer enclosure, you can admire them and observe the feeding from close distance.
The ponies stay at their very own Pony-Hotel, where they enjoy to be petted and to receive some care and attention. Bella, the dog of the house, greets all our guests with a powerful woof-woof and a friendly wagging of her tail. Guests who would like to bring their four-legged friends, are more than welcome to do so. After all, there is nothing dogs love more than to run out of the house and into green meadows.
the "Stallerhof Edelhausbrand"
Self-harvested tastes best.
In the distillery you can taste our home-made fine house brandy, the "Stallerhof Edelhausbrand". We hand-pick all the pears, apples and plums, to be processed, from the trees in our fruit garden. In our distillery you can also get a first-hand impression of organic fruit processing as part of the distilling process.

IMPRESSIONS